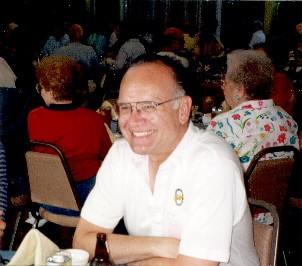 Doug MacBeth, Grayslake, Illinois, president of the AHA, was killed in an airplane accident at poplar Grove, Illinois, July 21, 2001. Another AHA member, Glen "Smitty" Smith died in the same accident. The Hatz/Kelly D family is quite small, and like other families, we all hurt when one of our members hurt. There is no question that we each hurt and the AHA will suffer as a result of the loss of these two members.
Doug MacBeth was a natural successor to Lorin as president of the AHA. Doug was extremely gregarious and would do anything to get a group of people together to talk about flying and about airplanes. Hatz builders would swarm to him as bees swarm to a field of flowers. He had a gift for appreciating every question...for seeing each question as an opportunity for connecting one person (the questioner) with another person (one who would likely have the answer.) Everyone would benefit: Doug, to see a new friendship start between the other two; the questioner because she or he gained a friend and some suggestions; and the third person for gaining a friend and being able to discuss a favorite subject.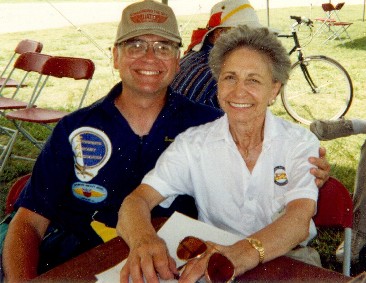 (left: Doug with Mary Jones Wilkinson)

Doug's gregarious nature was also evident at every aviation event he attended. His huge smile seemed to literally stretch from ear to ear, and his eyes always twinkled with excitement over the opportunity to talk about flying, or better yet, to fly.

The AHA will miss Doug, as will his fiancÚ, Kim Spath, his family, his neighbors and friends, his local EAA chapter (of which he was president), the airport's flying club, and EAA Airventure, at which he played a large role in the woodworking shop, and everyone else who knew him. All who knew him consider themselves poorer for having lost him but much richer for having been able to share time with him.

It is our job now, as friends of Doug's and as members of the AHA, to carry on where he so unexpectedly left off. I believe that we will be paying tribute to Doug's life each time we learn about the proper way to glue a wood joint or to make a solid weld on steel tubing. We will be honoring him each time we do a careful preflight of our airplane, each time we fly our Hatz or our Kelly-D and feel the wind against skin and hair, each time we give a person his or her first airplane ride, and each time we help others become involved in flying or airplane building.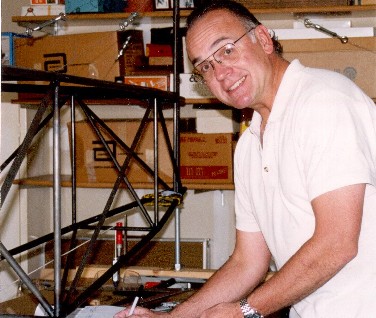 I also believe that we will pay tribute to Doug by continuing our membership and our involvement in the American Hatz Association. We are responsible for carrying the dream that began with John Hatz; a little homebuilt biplane that evokes thoughts and feelings of WACOs and Great Lakes; and was put onto paper by Dudley Kelly. The members of the AHA will make sure that pilots and builders for generations to come will be able to experience the joy of talking biplanes and of flying biplanes. Doug left very large shoes to fill, but I am confident that the members of the AHA will pull together to fill them.
Consider what Mitch Brown, Young Eagle Coordinator for EAA Chapter 414 says about Doug:
"It is never clear why such a thing happens, all we can do is remember how much a person like Doug touches our lives and how we are changed by such a person...In short, if I had not met Doug I would not have completed my flight certification (1997-1999); I would not have made such good friends within a Chapter that has come to mean so much to me; I would not have seen the smiling faces of each Young Eagle completing a flight with one of our great Young Eagle pilots like Doug; I would not have enjoyed the thrill of cutting steel tubing and shaping the scallop so it overlaps another piece of steel tube just right for its next weld; I would not have tried my hand at welding myself; I would not have experienced the "Oshkosh Experience: the way Doug though it was supposed to be when I sent 4 great days with him in 1998; I would not have seen Doug become even more happy an individual in meeting and falling for a girl nicknamed "Freckles" (Kim Spath) at our 1997 Camp Lake fly-in; and probably most important for me, that I can do more and do better if I really try to... I could go on, but you get the picture. I am sure many of you have a similar story about Doug or someone like him who has made such an important impact on your life. These experiences only reinforce the fact we all affect each other in profound ways, many times in ways we don't even understand."
I believe Mitch has captured the essence of Doug's involvement with aviation. Douglas MacBeth (September 13, 1952 - July 21, 2001) a model for each pilot and each builder to emulate.
Kim Spath recently shared the following thoughts regarding her trip to the crash site, just north of the Poplar Grove Airport. "As I visited the crash site out at Poplar Grove in the middle of the pouring rain, I cried to the sky how this could happen. Being a pilot, as always, I looked to the sky. The sun broke out, painting the clouds orange in a way that we pilots can appreciate; Doug's way of saying goodbye. I emerged from the wet cornfield teary-eyed, and looked up to see the sun shining on the fledgling Vintage Aircraft Museum at Poplar Grove Airport. I decided then to work to put up some memorial to Doug and Glenn Smith, the other pilot involved in the accident."
Chuck Brownlow, AHA Prez.