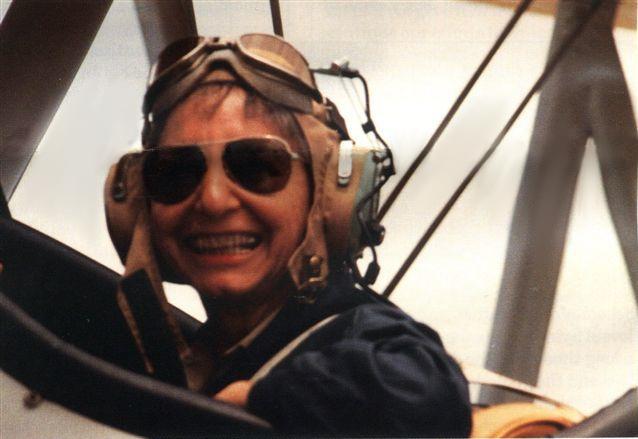 It is with a great deal of sadness that we announce the death of Mary Jones Wilkinson, wife of the founder of the AHA, Lorin Wilkinson. Mary passed away early in the morning on October 2, 2004 following a courageous but short battle with cancer. She is survived by her husband, Lorin, by two brothers, Santo Regalbuto, Ontario, California, and John Regalbuto, Georgetown, Massachusetts, and a sister, Angela Mariani, Cleveland Ohio.
Mary was a very good friend to many members of the AHA and of course was a member. She was instrumental in getting the association incorporated and assisted Lorin with other management aspects of the AHA in its early years.
Mary was born Mary Regalbuto in Cleveland, Ohio and began studying for her pilot's license soon after she graduated from high school. She enlisted in the Women Airforce Service Pilots (WASP) training program in 1943, earned her wings quickly and was assigned as an engineering test pilot for the Army Air Corps at Waco Army Airfield, Waco, Texas during World War II.
She worked in administrative, personnel and management positions for the federal government for thirty-three years, retiring in 1981. During her service, she received many awards and honors, including a letter of commendation from President Ronald Reagan. While working with the government in 1974, she became the first woman to be elected to serve on the board of directors of American Airlines.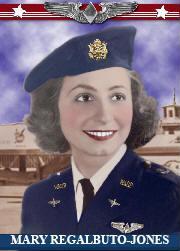 When she retired, she moved to Tulsa and enrolled at the Spartan School of Aeronautics, got her private pilot's license revalidated and became very active in general aviation, especially with antiques and classic airplanes. She went on to earn her Commercial Pilot's rating as well as her Instructor's rating. The winged love of her life was her 1941 Navy N3N-3, which she owned and flew for fourteen years.
Mary was important to biplane lovers in so many ways, including the founding of the National Biplane Fly-In in Bartlesville in 1987, and her service as executive director of the National Biplane Association for many years. Along the way, she somehow had time to earn her bachelor's degree in aviation science from Oklahoma State University in 1997.
Mary received many awards during the past twenty years, including her induction into the Oklahoma Air and Space Museum's Aviation Hall of Fame in 2002. She also had received the Clarence E. Page Memorial Trophy for outstanding contributions to Oklahoma aviation.
The AHA will be making a contribution to a memorial of Mary's choice, the WASP Endowment Fund at Texas Women's University, P. O. Box 425528, Denton, Texas. 76204. It was Mary's wish that contributions be directed there, rather than for flowers or other memorials. Lorin has also let me know that Mary's name will be engraved on the monolith at the Memorial Circle, next to the Biplane Museum at the Bartlesville (Oklahoma) Airport. Bartlesville is the site of the Annual Biplane Expo and of course the annual meeting of the American Hatz Association.
There is no question that Mary will be greatly missed by biplane folks all around the world. She was a very rare combination of grace and strength, resolve and patience, all wrapped up in a diminutive though powerful package, always decorated with a beaming smile. To know her was to love her. Her legacy will live on in so many ways, through the National Biplane Association, the Annual Biplane Expo, the WASP endowment, but mostly through all of us who were privileged to know her. She surely is flying her N3N in heaven.
Chuck Brownlow, AHA Prez.